Je hebt al een hybride leasebak, dus wat wil je nog meer? Nou, een pooltafel, ín een gewone tafel. Dat je eraan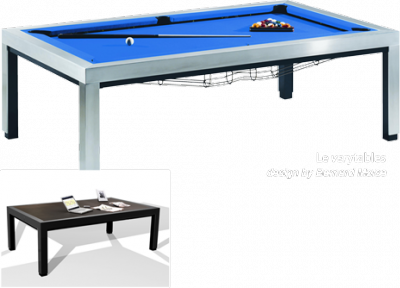 draaien kunt en dat dan wel al je bureauspullen over de grond tuimelen, maar dat je mooi wel met spelen kan. Nou, dat kan dus nu! Dankzij het biljart van het Franse Chevilotte. Van binnen is de tafel een volwaardige pool- en biljarttafel, inclusief blauwe zachte bekleding en een railsysteem om de ballen vanuit de pockets naar de verzamelhoek te geleiden. Prachtig ding, en nog mooier: in een handomdraai is hij weer teruggedraaid naar z'n onopvallende standaardmodus, zodat de baas er nóóit van hoeft te weten. Van het onopvallend bureau of de eettafel en schijnt niets te verraden dat het stiekem een balspel huisvest.
Eén van de nadelen: je moet wél steeds uit kunnen leggen waarom je bureau zo leeg is. Dat clean desk-verhaal werkt alleen aan het eind van de dag. Tweede nadeel: de Franse producent vraagt meer dan veertienduizend euro per tafel. Kun je toch beter in je pauze naar de kroeg op de hoek vertrekken…
Of beter nog misschien: poolen op je iPhone. Kun je elke keer dat je scoort en een kreet niet kunt onderdrukken, doen alsof je telefoon afging. Toch een waterdichter plan dan het steeds omgooien van je bureau. Hoe dat nou toch allemaal moet, dat iPhone-poolen, dat wordt op z'n aller-inspirerendst uitgelegd in dit Youtube-filmpje: https://www.youtube.com/embed/z9Ly2-ueuPc
Ook geweldig als je een keer niet slapen kunt!